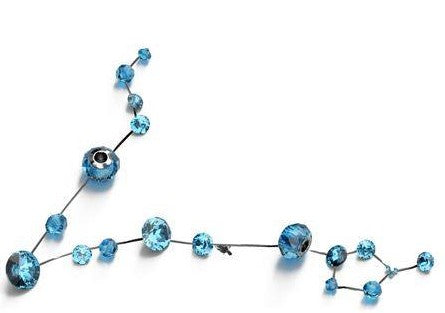 A collection of silver gift jewellery with March Birthstone crystals or that can be personalised with your choice of Birthstone. Aquamarine, the birthstone of Pisces, has a rich color and has long been a symbol of youth, health and hope. Its mesmerizing color ranges from pale to deep blue and is reminiscent of the sea. The serene blue of aquamarine was said to cool the temper, allowing the wearer to remain calm and levelheaded. Waer it to promote good health and creativity.
A perfect birthstone for March, the Aquamarine creates a beautiful accent to spring and summer wardrobes. Not only is aquamarine one of the March birthstones, but it's also used to celebrate 19th wedding anniversaries.
This chic meaningful silver jewellery for women arrives in a branded gift box ready for gifting and safekeeping, no need for extra gift wrap! You can customize it adding a Swarovski crystal birthstone charm in the month of your choice.
Introducing our latest jewellery collection, crafted from nickel-free sterling silver sourced from Ireland and featuring stunning Aquamarine crystals from Austria. This collection is specially designed for those with sensitive skin who may experience allergic reactions to nickel, providing a safe and stylish alternative.
Aquamarine, the birthstone for March, is a beautiful gemstone that is believed to represent tranquillity, serenity and harmony. The crystals used in our collection are carefully selected for their stunning blue-green hues and are expertly cut to showcase their natural beauty.
The collection features a range of pieces, including earrings, necklaces, bracelets, and rings, all designed to complement and enhance the natural beauty of the Aquamarine crystals. Each piece is crafted with care and precision, using traditional techniques to create high-quality, durable jewellery that can be cherished for years to come.
One of the standout pieces in our collection is the Aquamarine Teardrop Pendant Necklace. This elegant necklace features a delicate sterling silver chain and a stunning teardrop-shaped Aquamarine crystal, which sparkles in the light and captures the eye. The pendant is expertly crafted to showcase the natural beauty of the gemstone, making it the perfect accessory to dress up any outfit.
For those who prefer a bolder look, our Aquamarine Crystal Hoop Earrings are a must-have. These earrings feature a classic hoop design with a twist - a beautiful Aquamarine crystal nestled at the centre of each hoop. The crystals are faceted to catch the light and add a touch of glamour to any outfit.
Our Aquamarine Crystal Bangle Bracelet is another standout piece, perfect for adding a touch of elegance to any wrist. The bracelet features a delicate sterling silver band, with a stunning Aquamarine crystal set at the centre. The crystal is surrounded by smaller crystals, creating a beautiful, eye-catching design.
At the heart of our collection is a dedication to quality, craftsmanship, and style. We are proud to offer a range of jewellery that is not only beautiful but also safe for those with sensitive skin. Whether you are searching for the perfect gift for a loved one born in March or simply want to treat yourself to a stunning piece of jewellery, our Aquamarine Crystal Collection is sure to impress